The Clements Blog
Virtuoso Performance: The Trombone
Tuesday, 5th May 2015 | 2 comments
When you think of a 'virtuoso', you might imagine a violinist – such as Paganini or, in the modern day, Hilary Hahn – or a pianist – such as Liszt or, today, Lang Lang. One instrument you might not imagine being described as 'virtuoso' is the trombone, which is more commonly associated with comic effects, circuses, and marching bands.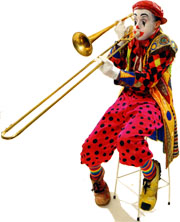 Given sufficient musical talent, however, any instrument can be performed in amazing ways, and the trombone is no exception – today's top player is probably Christian Lindberg. But one of the most famous of trombone virtuosi in history was the American Arthur Pryor, who lived from 1870 until 1942. Like many virtuosi, he was a child prodigy, having secured a spot in a professional band and a certain amount of fame by the age of 15.
By the age of 22, Pryor was playing as a soloist with the John Philip Sousa Band, which was founded by the famous composer of marches and which toured the world as one of the top musical attractions of its day. It is estimated that in the 12 years he played with the Sousa Band, Pryor played around 10,000 solos. His vibrato technique was thought to be particularly fine, but was in fact due to paralysis affecting half his face, caused when he was kicked by a mule when he was small.
Sousa's marches are famous the world over. Here's a section from one of the most well-known – The Stars and Stripes – performed by a trombone quartet. The descant at the end of the march is normally a very tricky piccolo solo, and in this video is here performed not once but twice by some extremely talented young trombonists:
Arthur Pryor was not only famous for being a trombone virtuoso, he also composed several very demanding pieces for the instrument which are often played by today's best players. The best-known is a "theme and variations" on The Blue Bells of Scotland. It's based a tune you are probably know very well, but I bet you've never heard it quite like this – the final variation in particular (from about 4'50") barely seems possible on the trombone. This video is performed by top trombonist Massimo La Rosa, and he's slightly altered some of the music (in particular the cadenza near the end, before the final variation) to show off his incredible range – well beyond what most trombonists can play:
The tradition of trombone virtuosi and child prodigies lives on in Peter Moore, who in 2008 was the youngest ever winner of the BBC Young Musician of the Year competition, at 12 years old. Here he is playing with the Young Trombone Collective – themselves no slouches on the instrument! – in 2009:
---
Very impressive! I watched Peter Moore win the Young Musician of The Year back in 2008 and remember thinking how gifted he is.
Yes, I agree - brilliant!
It doesn't matter what instrument you play you can be a virtuoso.
Leave your comment
You must be logged in to post a comment.
---